My semester is drawing slowly to a close. Kendra is already done for her spring semester and Mac and Kim still have a month of school. (Yes, at the moment they hate us. Per Kim's request, I'm no longer allowed to complain aloud about my finals.)

Even though Kim and Mac still have four weeks of school ahead of them, I am already beginning to realize that this house is going to feel very empty by next fall. Kim graduates and will be heading off to college.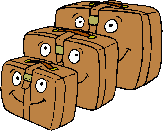 When Kendra started college, I had the luxury of having her still at home for the first year. I took my time adjusting to the idea that she'd be leaving home soon. Her move to the dorms for her sophomore year was easier than if she had bolted out the door at the beginning of college.

I will get no such buffer with Kim. She's going to the same college as Kendra and they are eagerly looking forward to sharing a place to live.




I missed Kendra when she left, but I think I will be devastated when both my girls are gone.

Whenever Paul is away with the Army, it's just going to be Mac and me rattling around this huge house. And he's not going to want to watch romantic comedies with me either. But on the other hand.. we both love action movies and Mellow Mushroom Pizza Parlor (neither of the girls do). I guess it's his turn to have me all to himself. That's the silver lining.